Backpack sprayers are essential gardening tools. Regardless of the size of your garden or what you do with it – it would be best if you had a backpack sprayer for maintenance purposes. Backpack sprayers are not only useful for controlling weeds and pest, but also for spraying fertilizers and other chemicals. Without backpack sprayers, spraying herbicides, insecticides, fertilizers among others could be a difficult task. Since these sprayers play a vital role in our farms, yards, lawns, gardens, and other areas of interest, it is imperative to always acquire the best backpack sprayer for maximum results.In this article, we review 7 backpack sprayers. The Petra Electric Fogger Atomizer Backpack Sprayer tops the list of our review.
We investigated the main features that a good backpack sprayer should have, their benefits and setbacks. These features include liquid capacity, the flow rate, dimensions, the construction material, the operational mechanism (whether manual or motorized/batteries), and the weight. To make our review cater for your needs, we've prepared a comparison table for quick and easy reference of the products we've covered. However, each product has an in-depth review. Also, towards the end of the review, we have a detailed buying guide with tips to help you make quick, informed decisions.
Top 7 Backpack Sprayers Review 2023
Features
Liquid capacity: 4 gals.
Powered by: 1200 W motor (operates on 110 V AC power)
Spray/Flow Rate: adjustable
Dimensions: not specified
Weight: 6.05 lbs.
Material: not specified
More features: mists up to 15 feet; can be used with pest control materials
The Petra Electric Fogger Atomizer Backpack Sprayer is the best backpack sprayer on the market today. It is designed with padded straps that make it lay comfortably on your back. This backpack sprayer features a full mouth lid so that its users can fill the tank with minimal efforts. Petra manufacturer uses the extra-long hose to make this backpack suitable for commercial projects. The clever use of a long hose enhances maneuverability – you can spray up high or down low to as far as 15-20 feet.
If you've been having trouble controlling mosquitos and pests, Petra Electric Fogger is your perfect solution. It boasts an average particle size of between 20 and 50 microns – an ideal fogger for ULV spraying needs. It's a mist blower that comes with adjustable screws to allow easy change of the flow rate. With this backpack sprayer, you can cover the yard, orchards, garden, field, and plants within your set working time.
The presence of a premium 1200w motor that operates on 110V AC makes this backpack sprayer able to provide a consistence spraying experience. Besides, this 4-gallon professional mold fogger features a screen filter to prevent dirt from entering the tank. Some of the use of this backpack sprayer include fogging greenhouse, perfect for a vegetable garden and fruits trees, excellent for spraying spider mites, biting mites among others.
The Petra atomizer weighs 6.05 pounds only, which makes it comfortable to carry on your back. However, there's one downside of this product; you must plug it into electricity and walk around with extension cords to operate. Well, if you're looking for the cheapest way for DIY mosquito and other pest control, then you might want to consider this unit.
What are our favorite features?

Wide mouth lid
Comfortable backpack straps
Extra-long hose
1200 W motor
What could be better?

Must be plugged into electricity
Features
Liquid capacity: 4 gals.
Powered by: pump
Spray/Flow Rate: 150 PSI
Dimensions: 9 x 15 x 22 inches
Weight: 10 lbs.
Material: high-density polyethylene
More features: includes three nozzles; no leak pump; 21-inch wand; 50-inch hose
If you've been looking for the best backpack sprayer for a roundup, look no further. This backpack sprayer has features that are hard to resist. First, it has a large piston pump that pressurizes in fewer pumps, around 6-9, and you're ready to roll. Second, it has a large tank opening for easy filling and basket filter to prevent dirt from getting into the tank. Another cool feature of this backpack sprayer are its adjustable padded straps with a waist belt and built-in lumbar support – so you don't have to complain of back pains anymore.
Spraying herbicides and weeds has never been this easy and fun. With the roundup backpack sprayer, you can opt to use the professional shut-off feature on the comfort-grip to prevent hand fatigue. Also, there is a removable in-line filter that you can take out to minimize clogging. The pump handle reverses so you can switch it from right-handed to left-handed use.
Multiple poly adjustable nozzles are included. If versatility is your thing, roundup backpack has your back. You can quickly adjust from reliable stream to fine mist, or go high volume flat fan if you want to cover large areas. If you're going to work on confined spaces, then the ideal nozzle to use will be the low-volume flat fan nozzle. You can also use tee-jet nozzles where necessary.
Also, the backpack sprayer features a sturdy 21-inch poly wand with high-quality Viton seals for longevity. On the downside of this backpack sprayer, it can occasionally fail to build pressure.
Why is it special?

Quick to assemble
Easy to use
Comfortable
Multiple nozzles
Sturdy
What are the flaws?

Pressure is weak sometimes
3
Best Battery Backpack Sprayer
Features
Liquid capacity: 4 gals.
Powered by: battery
Spray/Flow Rate: 20-60 PSI
Dimensions: 23 x 8 x 16 inches
Weight: 14 lbs.
Material: plastic
More features: for 6-8 hours on a single battery charge; stainless steel and acid bleach wands included; thick shoulder straps; one-year warranty
Whether you tired of using a manual backpack sprayer that requires constant pumping or you're looking to change your spraying game – then MY4SONS backpack sprayer can help you achieve your desires. It is a 4-gallon battery-powered backpack that lasts for 6-8 hours on a single battery charge. That means you can spray all day long or over 200 gallons of solution. The battery rechargeable time is 8 hours.
The backpack features a full mouth lid that allows easy filling. There is a screen filter that traps dirt from entering the tank. This unit comes with both acid bleach wand and stainless-steel wand. Other noticeable features include triple-thick extra-large shoulder pads, brass nozzle, organizer pockets, and strain relief hose.
If you're wondering what this backpack can be used for, then you'll be surprised by how much it can do. This M4 can be used to spray herbicides, fungicides, and sealants. It is also compatible with fuels such as kerosene, diesel and gasoline. You can also use it with plant dyes, plant treatment, soaps, mild acids, and bleach. Note that the use of acetone, benzene, naptha, muriatic acid, and high concentration of bleach is highly prohibited. In general, this backpack sprayer can handle most jobs that require spraying. The use of translucent material in the construction of its tank makes it easy to monitor the solution levels. Also, the quick-change battery compartment makes it much easier to swap the batteries.
While you can achieve significant results with this backpack sprayer – 14 lbs. makes it heavy even without any contents. All in all, the M4 is the best battery backpack sprayer.
What makes it special?

Long battery life
Easy to use
Sturdy
Versatile
What cons did we find?

Heavy
Features
Liquid capacity: 4 gals.
Powered by: lithium battery
Spray/Flow Rate: 65 PSI
Dimensions: not specified
Weight: not specified
Material: plastic
More features: stainless steel and acid bleach wands included; custom-built commercial cart; multiple nozzles included
Petra battery powered backpack sprayer is a true definition of a power-driven backpack sprayer. If by any chance you didn't like MY4SONS backpack sprayer, then this model from Petra can be a perfect alternative. The backpack sprayer comes with two wands – a stainless-steel wand and acid bleach wand. There's an in-built wand holder to store your rod when not in use. Apart from boasting two wands, it also features a durable translucent tank with an extra-large mouth and lid to enhance filling. The presence of a filter screen on the top prevents contaminants from getting into the container.
With a 6.0Ah removable lithium battery, this backpack sprayer guarantees to last 4X longer than many sprayers on the market. Spraying for between 6 and 8 hours per charge means you can do 50 full tanks. That's quite a long period and to prevent your back from hurting, the sprayer features maximum comfort straps – which are padded shoulder straps and back harness.
There are multiple nozzle attachments, 4 to be precise – the cone nozzle for volume and distance, the flexible nozzle for mist and long-distance, the double-head nozzle for misting and the single-head nozzle for an even finer mist. This sprayer has both the capacity and pressure to get things done. It's ideal for commercial agriculture use as well as home gardening. The only threat with this backpack sprayer is its capacity – 4 gallons can be massive especially if you're to use it for long hours.
All in all, it's a backpack sprayer that does what it's meant to do, and it's among the best battery powered backpack sprayers you can find.
What are its best features?

Multiple nozzles
Two wands
Long-lasting battery
Maximum comfort
Easy to use
What could be improved?

Might be heavy
Features
Liquid capacity: 4 gals.
Powered by: pump
Spray/Flow Rate: 40 – 60 PSI; 0.4-0.5 GPM
Dimensions: 12 x 7 x 7 inches
Weight: 9.26 lbs.
Material: plastic tank; powder-coated steel
More features: padded shoulder straps; 3-stage filtration system; CF valve; 20-inch wand; 48-inch hose
It is a tree and turf professional commercial backpack sprayer that's compatible with traditional fertilizers, pesticides and weed killers. It has padded shoulder straps for comfort. The sprayer features a cushion grip shut-off with a pressure gauge to quickly check the pressure. Also, the shut-off assembly is serviceable for efficiency. The 4-gallon translucent tank has a 4-inch wide mouth opening for easy filling and cleaning. A filter basket is included below the mouth to block dirt from entering the tank.
Chapin commercial backpack sprayer is a manual sprayer with a 20-inch stainless-steel extension wand and a 48-inch reinforced clear PVC hose. With a flow rate of between 0.4 and 0.5 GMP, this sprayer can cover 23 feet spray stream horizontally, and 25 feet spray stream vertical. A 3-piece nozzle pack is inclusive with a special CF valve that ensures consistent flow while spraying. This turf pro backpack sprayer can is ideal for landscape, homeowners, turf professional, among other spraying uses.
If you ever face any trouble with your backpack sprayer, you can always pull out the detailed user manual and go through it for some troubleshooting tips. If that seems to be time-consuming – reach out to their customer care and they'll be happy to help. As much as this unit guarantees reliable performance, there is one thing missing that we feel could make it even better – the lifting handle. Otherwise, everything else makes it one of the best backpack pump sprayers to consider.
What are our favorite features?

Easy to put together
Shoulder straps
High performance
Time saver
What could be better?

The design could be better
6
Best for Landscape Applications
Features
Liquid capacity: 4 gals.
Powered by: battery
Spray/Flow Rate: 40 PSI; 0.2 GPM
Dimensions: 10 x 15 x 22.5 inches
Weight: 14.15 lbs.
Material: powder-coated steel frame; plastic tank
More features: up to 4 hours of spray duration on a single charge; no pumping required; 4 nozzles included
Just as the name suggests, this product does what it's meant to do. Field King backpack sprayer is powered by 18-volt Lithium 2.1Ah battery. No pumping is required. Fill the tank with your chemicals then flip the switch and start doing your thing. The battery lasts for up to 4 hours of spray time and is rechargeable in only 3.5 hours. What's more exciting is the interchangeable concealed battery system that not only speeds up accessibility but also protects the battery from shock and fluid exposure.
The backpack sprayer has a fully padded back harness that guarantees comfort. Besides, it includes adjustable padded straps, waist belt and chest cinch strap to enhance your all-day comfort. Included are four nozzle – low volume flat fan for foliage or confined areas, high volume flat fan for broad coverage of large areas, and the foaming nozzle is the best for weed killing experience.
With the professional shut-off system, you don't have to worry about hand fatigue. Besides, a nickel-plated brass poppet is included for strength and precision. The handle is easy-to-clean with an in-line filtration system. Viton seals and gaskets ensure maximum chemical resistance. There is an integrated carry handle for easy transportation and wand storage for the 21-inch poly wand.
The 14.15 lbs. backpack sprayer has a powder-coated steel frame for sturdiness and chemical resistance. With pre-set spraying pressure at 40 psi and 0.2 GPM, this backpack is ideal for landscape applications. It's compatible with herbicides, insecticides, fungicides, and fertilizers. However, this backpack should not be used with wettable powders. On the downside, this Field King model won't work with anything less than a gallon inside, and it's reasonably substantial when filled.
What do we love it for?

Comfortable
Easy to use
Great maneuverability
Battery-powered
Good value for money
Sturdy
What were we disappointed with?

Heavy
Doesn't work with less than 1-gallon
Features
Liquid capacity: 4 gals.
Powered by: hand pump
Spray/Flow Rate: 40-60 PSI; 0.4-0.5 GPM
Dimensions: 17.2 x 9.8 x 18.2 inches
Weight: 10.6 lbs.
Material: polyethylene
More features: 2-stage filtration system; poly shut-off with two nozzles; 48-inch hose
Are you looking for a backpack sprayer with a traditional look and feel that is easy to put together, easy to use, and with excellent value for money? Then Chapin International Backpack Sprayer is what you've been looking for. This backpack sprayer is ideal for farm, home, lawn, garden, professional, and commercial projects. Its Viton seals make it compatible with weed killers, fertilizers, and pesticides.
Note that this model is a hand pump sprayer and does not use batteries. However, it has padded shoulder straps for a close fit to the back, making it stable as you pump using its standard left-hand pump handle. With its liquid capacity of 4 gallons, you can comfortably spray a large area without having to refill the tank now and then.
Also, this Chapin sprayer features a translucent tank for easy viewing of its contents. It has a 4-inch wide mouth opening to facilitate smooth filling and cleaning. There is a sprayer filter below the wide mouth opening that blocks foreign particles and dirt from getting into the sprayer. Besides, it has a serviceable shut-off assembly that not only makes cleaning and maintenance easy but also enhance spraying experience.
With a poly spray nozzle, you can quickly adjust the pattern of your spray – either from a coarse stream to a fine mist as you please. The backpack features a 40-inch reinforced clear PVC hose that allows you to spray as high or low as possible without struggling. The horizontal spray stream is 23 feet while the vertical spray stream is 25 feet. That's excellent coverage to speed up your job.
The most interesting bit is that this piston backpack sprayer does not leak at all – what a relief.
What are our favorite features?

Easy to use
Quick assemble
No leaking
Easy maintenance
Great value
What could be better?

The design could be better
Continuous pumping
Advantages of a Backpack Sprayer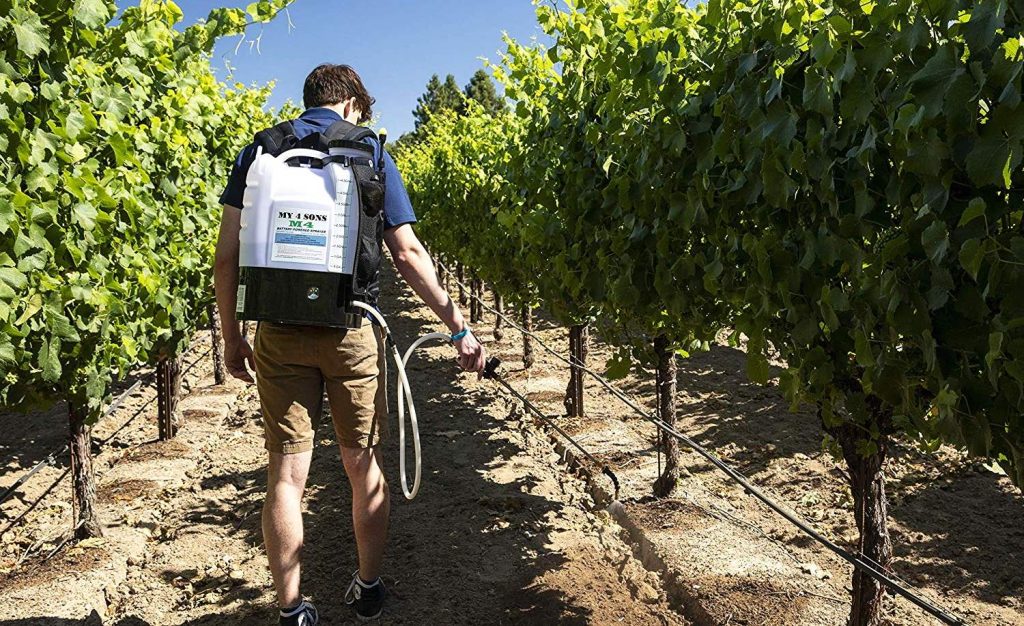 It's cheap, portable and straightforward to use compared to other herbicide application equipment.
Backpack sprayer makes it possible to treat a selective (spot spraying) area or a newly established population. You can't damage non-target vegetation.
Applications can be made in terrain and other areas that are hard to access. That adds to the convenience that comes along with a backpack sprayer.
They're sturdy and time-saving tools. You can get your spray work done in no time because of the fine spray and coverage of these backpack sprayers.
Features to consider before you buy a backpack sprayer
It's clear that for you to buy the right backpack sprayer, you should know the features you want in one. Highlights give you a clear picture of what a given sprayer can do and what to expect from them. We discuss six critical features that can make or break your spraying experience. They include the liquid capacity, backpack power, spray or flow rate, dimensions, weight, and construction material.
Liquid capacity
Whether you're looking for the best backpack garden sprayer or just another backpack lawn site sprayer, the liquid capacity is a feature you can't wish away. Different sprayers have different volume.
If you intend to spray large farms or lawn, then going for a sprayer with a large capacity will do fine – that's a 4-gallon sprayer.
You can pick one from our seven recommendations above. Small liquid capacity is ideal for small applications. However, sprayers with low volumes might give you repetitive refilling work.
Powered by
There are two types of backpack sprayers available on the market today. That is, the manual and motorized/automated sprayers.
The manual pump requires you to pump while the battery-operated runs on battery.
For convenience and reliability, the automatic sprayer will give the best service. You might want to consider our pick –
Petra Battery Powered Backpack Sprayer
as the best battery powered backpack sprayer. If you're on a fixed budget, it does not mean that manual sprayers are worthless. Our
Roundup Backpack Sprayer
is the best backpack pump sprayer with value for money. There is always something for everyone.
Spray/Flow rate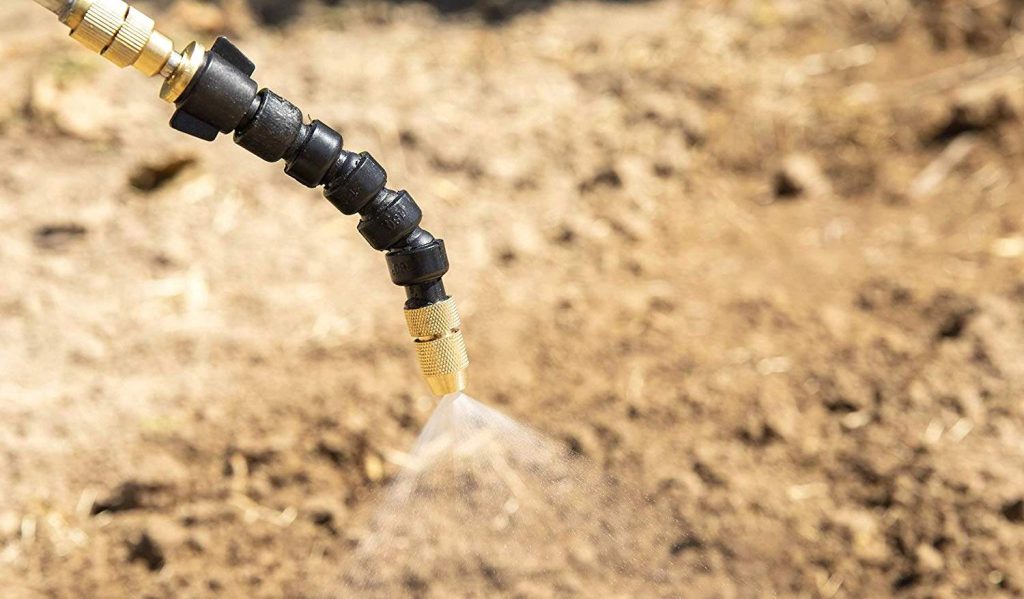 When making your choice, keep a close eye on the flow rate. You want to buy a sprayer that will meet your needs 100%, and there's no room to gamble. So, how is the flow rate significant? Pressure differs from one sprayer model to another. Some can only reach 15 psi while others build up to 150 psi. What you should understand is that pressure consistency in the tank is essential as you need to spray the liquid in a constant from the start to the end. Most of the sprayers' pressure decrease as the contents of the tank decrease. Our Roundup Backpack Sprayer is an excellent example of a sprayer with high psi.
Dimensions
Knowing the right aspects of your ideal backpack sprayer is imperative.
If you go for a sprayer with wrong size, then you may experience difficulties when it comes to storage and even usage.
If your primary spraying area is confined – having a sprayer with some specific dimensions is not an option. An example could be in a greenhouse where you have some particular paths to follow. Also, the length of the spray wands and hose should be what you want. Nothing should stop you from reaching up high or down low as you wish. For a sprayer with smaller dimensions, you check the
Chapin Commercial Backpack Sprayer
, but if you're interested in a larger one, then the
Field King Professionals Backpack Sprayer
or
MY4SONS
are ideal.
Weight
Weight is yet another critical feature to consider. You want to buy a sprayer that you'll be comfortable carrying around. Ensure that you check the weight first and be satisfied with it before you buy. Another thing that goes hand in hand with weight is the shoulder strap. It's almost useless to buy a sprayer that's lightweight but with inferior straps. In our review, Petra Electric Fogger Atomizer Backpack Sprayer is the lightest while the Field King Professionals Backpack Sprayer is the heaviest. Choose wisely.
Material
Finally, you must have durability in mind when you go shopping for a backpack sprayer. You probably want something that will serve you for as long as possible. That means you'll have to consider a sprayer that is built with high-quality materials, one that does not leak and if possible, with added UV protection. All of our reviewed sprayers are made with sturdy material and therefore suitable for you. However, you might want to check the Roundup Backpack Sprayer, which is also the best value, or the Chapin International Backpack Sprayer – Editor's Choice.
FAQ
Are there lightweight options of backpack sprayers?
Yes. As you may already know, all backpack sprayers are not built the same. Each is constructed to serve a specific function. Some will weigh more than others. The weight of a backpack sprayer will depend on the material used in its construction and its dimensions. For a lightweight option, you might want to look for smaller backpack sprayers.
Which backpack sprayer is better for a small garden?
Small gardens do not require backpack sprayers with large capacity. There are specific
garden sprayers
that come in different varieties. However, for a backpack sprayer, an ideal one is the one that can meet your small garden needs as you see them. For instance, it should spray selective areas accurately without touching the unwanted spots. Most of the standard backpack sprayers are ideal for small gardens.
Which backpack sprayer can be used with bleach?
Not all backpack sprayers can be used to do everything. Every sprayer is designed to handle a specific individual task apart from the original work. For the best bleach backpack, you can check out the
M4 Battery Powered Backpack Sprayer
that is compatible with quite a wide range of other chemicals. But using highly concentrated bleach can be dangerous.
Our verdict
The first product on the comparison table meets all the minimal qualifications of an ideal backpack sprayer. The Petra Electric Fogger Atomizer Backpack Sprayer has a premium, powerful motor, 4-gallon liquid capacity, and a comfortable to-fill lead. It's also quite lightweight so can be moved around easily.
Next on the list, you'll find the Roundup Backpack Sprayer with adjustable nozzles, a 21-inch long poly wand with high-quality seals, a removable in-line filter to avoid clogging, and a reversible pump handle, so it's comfortable for both left and right-handed users.
Lastly, we have the M4 Battery Powered Backpack Sprayer that is powered by a battery, so no cords or tiring pumping is needed. Also, it can be used with many different liquids and comes with both an acid bleach wand and a stainless-steel wand, making it one of the best backpack sprayers.