Maintaining your lawn, garden, shrubs, and more is something that nearly everyone aspires to do, but very few of us have the time to commit to it. There simply don't seem to be enough hours in the day for work, family, social engagements, and lawn care and maintenance. An excellent solution for keeping your yard green and healthy is to invest in the best lawn sprinkler to suit your needs.
We've reviewed eleven of the best sprinklers for lawns to create this list. In our research and testing, we found that we liked the performance of the Melnor 9538 Deluxe Pulsating Sprinkler the most. With its adjustable spray distance, flow-through design and extra-wide weighted base, it's hard to see why this wouldn't be our top pick for the best lawn sprinklers available on the market. Additionally, it's made with corrosion-resistant materials, which means this sprinkler will stand up to a variety of conditions and situations. But there are plenty of other fantastic options to view too! We've reviewed the best of the best for your convenience while you decide what sprinklers are best for you.
While compiling this list, we considered several factors. These include the types of sprinklers, the coverage area they can hydrate, the available spray distances, materials used in construction, and the warranties offered with each sprinkler. We've provided a table highlighting the products, followed by in-depth reviews. Additionally, there's a buying guide that outlines what you should consider when shopping for the best lawn sprinkler for your property. There's also a section of frequently asked questions that we answer for you, so you don't have to worry about any part of the selection process.
Quick Summary
"The Melnor 9538 Deluxe Pulsating Sprinkler is a US made product that can cover up to 5,600 square feet or a diameter of 85 feet"

"This traveling sprinkler can cover an impressive area of up to 13,500 square feet. Its cast-iron body with powder-coat paint is chip-resistant and has adjustable aluminum spray arms"

Best Value:

"It's a rotating sprinkler with a spray distance of up to 32.6 feet. It has twelve built-in different angle spray nozzles and three adjustable rotating arms to customize the way water is delivered"

"This is an excellent example of an oscillating sprinkler. It's made from heavy-duty rustproof aluminum and has 4,100 square feet of a coverage area. Its lifetime guarantee speaks for itself"

"Made with ABS plastic and rustproof polymer, this rotating sprinkler delivers an even layer of water, which helps make irrigation more effective. It's easy to set up and adjust to your liking since it's also fully customizable"

"this heavy-duty bass sprinkler has an impressive spray distance of up to 20 to 41 feet in diameter and a total coverage area of 5,600 sq. ft."

"Another great example of an oscillating sprinkler, it has twenty precision nozzles and can be adjusted in three different way, while it also can cover up to 4,500 square feet"

"This turret leak-free lawn sprinkler has a metal base that makes it sturdy and more stable. It has eight adjustable spraying patterns and is very easy to install"

"A rotary sprinkler, it has a spray distance of seventy feet and versatile turbo motor. It's a perfect choice for those who aren't tolerant of noise – it operates almost silently"

"This is a traveling sprinkler that is a great find for large lawns. It can cover up to 13,500 feet, has three-positions speed control options and an automatic shut-off"

"It's a rotating sprinkler made with engineering plastic and thermoplastic rubber, which promises a decent quality and long life of irrigating. It has multiple adjustable nozzles and three versatile spray arms"
Top 11 Lawn Sprinklers Review 2023
Features
Type: pulsating
Coverage area: 5,600 sq.ft.
Spray distance: 85 ft. in diameter
Material: metal
Warranty: not specified
More features: weighted base, flow-through design
The Melnor 9538 Deluxe Pulsating Sprinkler is a US made product that can cover up to 5,600 square feet or a diameter of 85 feet. This makes it a great choice for most lawns. The design allows for a full or partial circle with a flow through design that connects sprinkler to sprinkler for additional coverage. If your lawn has a larger diameter than 85 feet, you can connect these pulsating sprinklers in series to ensure that all areas are watered to your satisfaction.
The classic metal heads on the Melnor 9538 Deluxe Pulsating Sprinkler sprays a gentle rain of water, which will not overwhelm delicate plants and flowers in your landscaping. The coverage is fully adjustable so you can control the distance and water velocity to tailor it to the specific needs of your yard.
The base is weighted and extra wide to resist tipping and it is both easy to set up and move for ultimate flexibility. The Melnor 9538 Deluxe Pulsating Sprinkler has a stable sled base, which permits easy movement and placement, so you can redesign your sprinkler coverage to suit the changing requirements in your yard. The metal heads are designed for a long life and the entire sprinkler is covered with a limited warranty to ensure years of efficient and effective use.
What do we love it for?

Can be connected in series
Adjustable coverage
Long lasting metal heads
What were we disappointed with?

The base is made of plastic
Some users report issues with the springs
Features
Type: traveling
Coverage area: up to 13,500 square feet
Spray distance: not specified
Material: cast-iron body with powder-coat paint
Warranty: 2 years
More features: chip resistant; can travel up to 200 feet; adjustable aluminum spray arms; automatic shut-off; 3-speed settings
This traveling sprinkler is our Premium Pick for the best lawn watering sprinkler. It's great for small to medium-sized lawns and yards, but can be used on larger spaces as well. It's also fantastic for oddly-shaped yards and lawns.
This sprinkler covers up to 13,500 square feet when used along with 200 feet of hose. It will follow any custom path you lay the hose out in, so you can decide entirely how your turf, plants, and flowers will be watered and with how much hydration. The spray distance covers from anywhere from 15 to 55 feet in a spray, depending on how you adjust the nozzle. It is constructed and built to last you for years of thorough use. The cast iron body and chip-resistant, powder-coat paint will endure impacts, inclement weather, and more.
While this is a fantastic sprinkler, there are some things to keep in mind. For example, the sprinkler may get stuck if there are any bald spots or patches in the grass along the hose-directed route. Additionally, it won't travel along with a thicker or heavier duty hose, as it will get weighed down. The wheels may also come off of the unit easily if they are chipped, cracked, or otherwise damaged.
What are its best features?

Covers up to 13,500 square feet
Three-position speed control
Automatic shut-off with a ramp
Adjustable coverage from 15 to 55 feet
Customizable path
What could be improved?

May get stuck in bald spots
The wheels may fall off
Won't work with a heavy-duty or weighted hose
Features
Type: rotating
Coverage area: 3,600 square feet
Spray distance: 26-32.8 feet
Material: ABS material
Warranty: not specified
More features: 3 adjustable rotating arms; 12 built-in different angle spray nozzles; 24 hours customer service
The sprinkler with the best value is this Madeking Garden Sprinkler. It's also one of the best rotary lawn sprinklers on the market. It's made with ABS material that resists rusting and corrosion and can also withstand significant impacts. This sprinkler is durable enough to last for years through all kinds of weather conditions.
This rotating sprinkler can spray at distances of up to 32.8 feet if there is at least 80 PSI of water pressure available for it to work with. It does this by using three adjustable rotating arms. These arms have twelve built-in adjustable angles, making it possible to customize how water is delivered to your lawn or yard. It connects to standard garden hoses and is great for a variety of uses, including watering gardens and entertaining children. The downside is, it's not weighed down or braced at all naturally, so high water pressure or external objects can move the sprinkler pretty easily.
Additionally, it has a generous circular area of coverage, but it does tend to leave a dry spot right in the middle. As a result, you may have to move this sprinkler around during operation. It does also exclusively spray in a circular pattern, and cannot be adjusted to other spray patterns.
What makes it special?

Three adjustable rotating arms and 12 angles
Multipurpose
ABS/TPR construction
Spray distance of 26 to 32.8 feet
Connects with a regular hose
What cons did we find?

Lightweight and easily moved or tilted
Leaves a dry circle
Only sprays in a circle
4
Best Metal Lawn Sprinkler
Features
Type: oscillating
Coverage area: 4,100 square feet
Spray distance: not specified
Material: heavy-duty rustproof aluminum
Warranty: lifetime
More features: solid brass jets; easy to adjust
This oscillating lawn sprinkler is perfect for residential areas and uses. It's not completely made of metal, which isn't specified on the ordering page. Particularly, the barrel seems to be made of some sort of plastic. However, the bulk of this sprinkler is made with rustproof, heavy-duty aluminum. It also has solid brass jets and nozzles for durability and reliability.
This sprinkler offers up to 4,100 square feet of coverage consistently, though the range can be adjusted for smaller spaces if needed. You can also adjust the width of the spray –  there are three push buttons on each side of the sprinkler that will close or open additional nozzles. Keep in mind that some users have said that the hose connection is on the shorter end of the spectrum, so it's something to prepare for as soon as you decide on this model of a sprinkler.
Additionally, you may have to look up instructions or videos online to help to adjust this sprinkler, because it does not come with an instruction manual. This sprinkler comes with a lifetime warranty through the manufacturer. If any part of this sprinkler fails or is defective, the manufacturer will replace it.
What do we love it for?

Heavy-duty, rustproof aluminum
Solid brass jets and nozzles
4,100 square feet of coverage
Adjustable control
Lifetime manufacturer warranty
What were we disappointed with?

Does not come with instructions
The hose connection is too short
Not metal
5
Best Residential Lawn Sprinkler
Features
Type: rotating
Coverage area: 3,600 square feet
Spray distance: 8 feet
Material: ABS plastic; rustproof polymer
Warranty: not specified
More features: weighted base; easy to set up; delivers an even layer of water; water conservation technology; multipurpose
The rotating lawn sprinkler from GrowGreen is the best rotating lawn sprinkler available following our Editor's Choice. It's an extremely efficient lawn sprinkler that can cover up to 3,600 square feet of space with a spray distance of up to 32.8 feet in any one direction.
It's made with ABS plastic and rustproof polymer that will ensure that your sprinkler lasts for a long time and endures a range of outdoor weather conditions. This sprinkler uses a water pressure of 80 PSI and has a 360-degree rotation. This means that you will have consistent coverage throughout your use. It also features water conservation technology, which means that it helps you to save water while still hydrating your lawn and yard. This, in turn, saves you money.
There may be some quality control issues involving this sprinkler. It may break, including the inner plastic rings breaking or cracking easily. Additionally, the arms of the unit may come off, but typically they can be put back on with little trouble, though. There is a noted problem where the joint between the base and the sprinkler system itself may leak. This may also be a quality control issue, as not every one of these sprinkler models has this problem.
What stands out?

ABS plastic and rustproof polymer construction
Easy to set up
Uses water conservation technology
Fully adjustable and customizable
Multipurpose
What cons did we manage to find?

Quality control issues
Inner plastic rings can easily become damaged
The joint between the base and sprinkler may leak
Features
Type: pulsating
Coverage area: 5,600 sq. ft.
Spray distance: 20 to 41 feet in diameter
Material: metal, brass
Warranty: not specified
More features: adjustable spray coverage from 0° to 360° with pattern adjustment
M PLUS is known for its high-quality and durable sprinklers. This water sprinkler has been designed to give life to your lawn, and it delivers without fail!. It's one of the best pulsating sprinklers in the market currently and is made from heavy-duty brass that has been fortified with a metal sled. This makes it more durable compared to other brands that use zinc sprinklers. The brass material is also corrosion resistant and is not impacted by debris and sediments in the water.  This sprinkler's base is made with heavily coated and durable zinc.
The M PLUS Water Sprinkler is also adjustable and can spray for a distance of 20-41 inches radius. It has an impressive spray coverage of up to 360 degrees with pattern adjustments. This kind of capacity enables it to cover most yard shapes and sizes efficiently.
This sprinkler is not only easy to install but also comes with a diffuser pin that allows you to adjust the spray intensity from gentle mists to powerful jets. Overall, the innovative design and impressive features of the M PLUS Water Sprinkler make it an impressive buy, especially if you have a large yard. It is made with precision engineering and has an innovative design that, when combined, makes one of the best water sprinklers.
What makes it special?

Easy to adjust spray intensity of the sprinkler
High-quality brass material that is durable and sturdy.
Impressive spray coverage.
Adjustable spray distance.
Ability to customize spray type.
What cons did we find?

There have been complaints of the base being too lightweight.
7
Best Lawn and Garden Sprinkler
Features
Type: oscillating
Coverage area: 4500 square feet
Spray distance: not specified
Material: not specified
Warranty: limited lifetime
More features: 20 precision nozzles; infinity turbo drive; 3-way adjustment
This oscillating sprinkler comes in a variety of types with different levels of adjustments for a truly customizable experience. Melnor produced the first successful oscillating sprinkler model in 1946, and they continue to put out high-quality sprinkler systems today.
The twin touch controls on this model make it possible to adjust the width and range of the watering pattern, allowing you to cover the entire yard or a narrow garden or path. It covers up to 4,500 square feet, so this sprinkler is great for small lawns and gardens as well as medium ones. It uses 20 precision nozzles to get the job done.
It also has an infinity turbo drive. This provides a smooth level of operation over an extended lifetime. You can purchase this sprinkler as a 2-way adjustable, 2-way adjustable with timer, 3-way adjustment, 3-way adjustment metal, or range control model. The settings and controls for all of these model types vary, so make sure to look closely when making your decision.
This model has some issues. To begin with, it is a bit louder than other oscillating sprinklers. This can be bothersome to your family members and neighbors, so keep that in mind if you live in a residential area. Also, it may begin freezing up at either end of the oscillation over time.
What do we love it for?

20 precision nozzles
Covers up to 4,500 square feet
Width and range fully adjustable
Quick Connect Product Adapter
Comes in multiple styles
What were we disappointed with?

May freeze up
Makes a loud clicking noise
8
Best Lawn Watering Sprinkler
Features
Type: turret
Coverage area: adjustable
Spray distance: not specified
Material: a metal base
Warranty: money-back guarantee
More features: 8 adjustable spraying patterns; highly durable swivel thread; leak-free; easy to install
This turret-style lawn sprinkler is one of the best for recreation and functional use. With eight different spraying styles and the ability to handle a range of pressure levels, this sprinkler is perfect for most residential uses.
It works well with most standard-sized hoses of a ¾-inch size to cover small, medium, or large lawns and yards no matter the shape. It's one of the most efficient lawn sprinklers available and is extremely durable. This includes the highly durable swivel thread that is used to connect the sprinkler to the hose. The high visibility will help to prevent any unintended damage, as well. It is a multipurpose sprinkler, great for watering lawns, as well as using it for recreational use.
It doesn't feel very heavy out of the box, so there may be some concern as to whether or not it can hold up to high water pressure. There are no instructions or information with the sprinkler. This means that you may have to look up instructional videos or manuals. Additionally, it should be noted that if you want to adjust the spray type, you have to change the settings while the water is off. Adjustments can't be made while the sprinkler is active.
What do we love it for?

Sprays in a variety of patterns
Works with standard-sized hoses
Works well on all lawns
Highly durable swivel thread
Multipurpose
What were we disappointed with?

Lightweight
Settings must be changed or adjusted while the sprinkler is off
No instructions or information
9
Best Sprinkler for New Lawns
Features
Type: rotary
Coverage area: not specified
Spray distance: 70 feet
Material: plastic
Warranty: Melnor limited lifetime
More features: 6 spray patterns; turbo motor; quick-connect product adapter
This is another fantastic Melnor product and is one of the best lawn sprinklers for low water pressure. Even at a low overall water pressure, this sprinkler will spray water at a distance of up to 70 feet. It's nearly silent during operation, so there are no worries about having any obnoxious or loud noises coming from your yard. With six spray pattern options, you have some customization available for how your lawn is sprayed. It has a turbo motor to increase its longevity.
Also, this sprinkler is compatible with the Melnor Quick Connect Product Adapter, but it requires an additional purchase of the Quick Connect Product End Connector. Keep in mind, however, that you will not be able to adjust the spray distances with this sprinkler, as it is a single setting. On the one hand, this makes it one of the best "set it and forget it" models, but on the other hand, you lose the extra customization of many other options.
Additionally, you should be on the look-out for the possibility that the gears of this sprinkler may get stuck. This means that they could cause the sprinkler not to rotate properly. It comes with the Melnor limited lifetime warranty as well.
What are its best features?

Sprays up to 70 feet
Has six spray pattern options
Compatible with Quick Connect Product Adapter
Turbo motor
Nearly silent operational noise
What could be improved?

Cannot set the distance of the water spray
Gears will get stuck and prevent rotation
10
Best Sprinkler for Large Lawns
Features
Type: traveling
Coverage area: 13,500 square feet
Spray distance: adjustable from 15 to 55 feet
Material: cast-iron construction
Warranty: not specified
More features: different settings available; ramp stop; rotary spray
If you're looking for the best portable lawn sprinkler, this traveling sprinkler by Orbit is one of the top choices available. It's made with weatherproof materials for enhanced durability and longevity. These materials are also heavy enough to keep the sprinkler weighed down as it travels along with hoses of any pressure level.
This traveling sprinkler sprays in rotary style, meaning that you'll get efficient, even water coverage for your lawn or yard. The spiked wheels and durable gears provide smooth, consistent travel. It also has three-position speed options so you can adjust how saturated your yard gets during your sprinkler's intended route. The controls allow you to choose between a low, neutral, and high setting to determine watering levels.
If you have particularly long hose lines or a heavier-weighted hose than standard, this sprinkler may be weighed down and stop operating or moving partway through its route. So you'll have to pay attention to that being a possibility. Additionally, it is possible that the plastic internal gears of this model may wear down, crack, or break with repeated use.
What are our favorite features?

Self-propels
Covers up to 13,500 square feet
Three-position speed control options
Coverage and spray distances are adjustable
Has an automatic shut off
What could be better?

Bogs down with longer or heavier hoses
The internal gears may wear out over time
11
Best Rotating Lawn Sprinkler
Features
Type: rotating
Coverage area: 25-32 ft
Spray distance: 360-degree rotating action
Material: ABS engineering plastic; thermoplastic rubber
Warranty: not specified
More features: has multiple adjustable nozzles; 3 versatile spray arms; easy to install
This rotating sprinkler from GreenGlow Garden is our choice for the best lawn sprinkler around. Whether you have a small, medium, or large lawn or yard, this sprinkler is sure to adequately hydrate your turf, plants, shrubs, and more without a problem. The sprinkler has three adjustable, rotating limbs that have a total of 12 spraying nozzles. These are built and ready to handle the delivery of powerful irrigation at various angles, ensuring that every corner of your yard is properly watered.
It's stable and hassle-free. Just attach it to a hose, and you're good to go. It has heavy-duty metal stabilizers that help it to stay in place even when being used with high water pressure levels. The stabilizers also help to keep it from wobbling or falling over. Also, it has a superior fit to most standard hoses, which helps to prevent leaks.
One thing that stands out about this sprinkler is that it doesn't have a full-metal construction, which some people look for in their sprinklers. However, it instead uses ABS plastic and thermoplastic rubber, which resists impacts as well as corrosion, increasing the overall longevity of the sprinkler. It works best with high water pressure levels. It's multipurpose and great for both watering your yard and for children to play in.
Why is it special?

Heavy-duty metal stabilizer
Superior fit to hoses
Irrigation angles between 15 and 45 degrees
Has a wide range of coverage
Easy to install and use
What are the flaws?

Needs high water pressure
Rubber and plastic construction
Advantages of a lawn sprinkler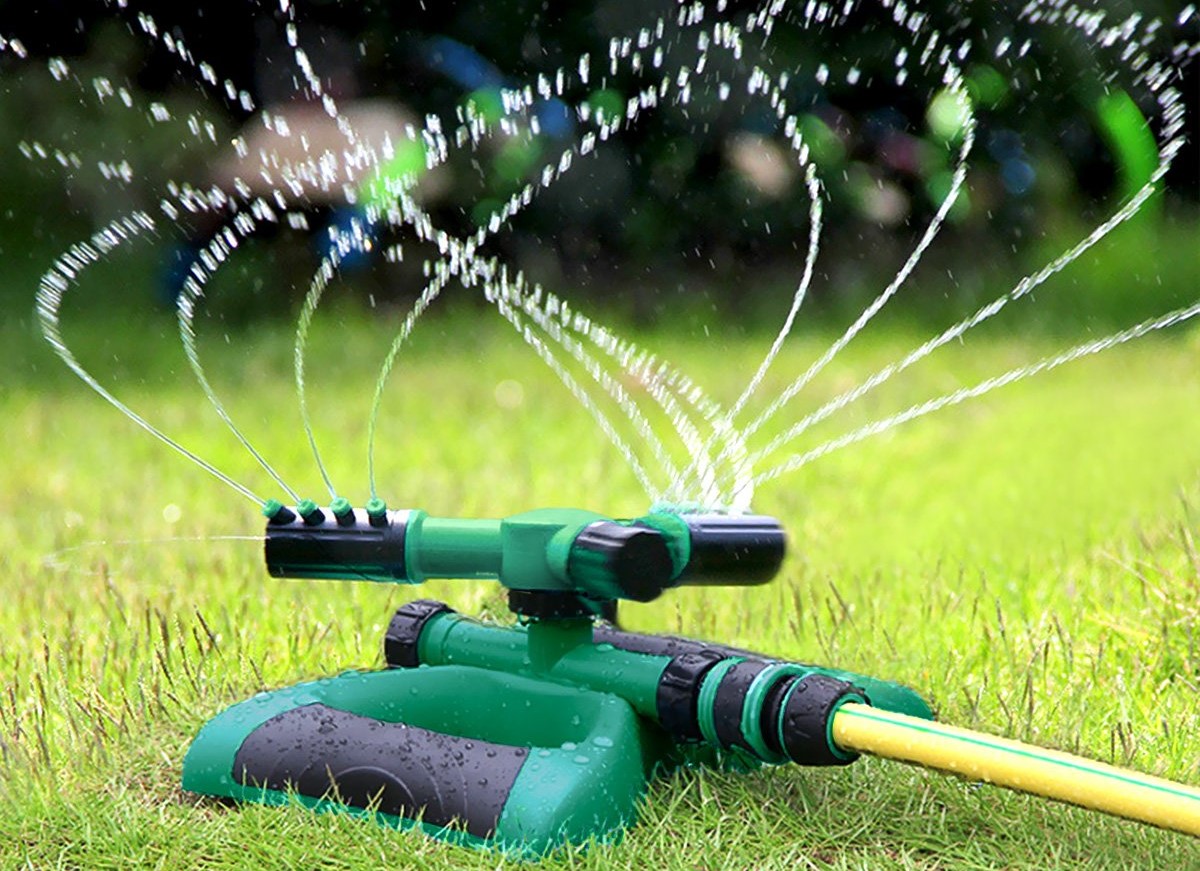 In-ground sprinkler systems aren't just something for the elite of your neighborhood. They are an efficient, simple way of making sure that your lawn, garden, plants, and grass stay hydrated and healthy. But there are also financial benefits, environmental benefits, and aesthetic benefits to having a lawn sprinkler.
There are several financial benefits that you may not know about regarding your lawn or yard and how well-maintained it is or looks. For instance, a properly-maintained lawn that looks green and healthy can increase your property value by up to an average of 15%. Additionally, sprinkler systems won't overuse your water. When manually watering your lawn or garden, it's very easy to overwater your plants without realizing it. Sprinklers often have features, timers, and more to help prevent this from happening. This saves you money on your water bill. You'll also save time by not having to drag around a garden water hose.
While water sprinklers of the past have had their struggles, modern-day sprinklers have many features that make them environmentally-friendly. They often have gauges, moisture sensors, and timers that help ensure that they're only delivering the amount of water necessary for your plants to stay green and healthy. They also help reduce water waste, and in fact, can help to save water, especially when compared to other imprecise watering tactics. Additionally, healthy turf has its own benefits. A 50-by-50-foot area of turf absorbs carbon dioxide, sulfur dioxide, and ozone along with other greenhouse gases. It also produces enough oxygen for a family of four. The advanced root system of healthy turf protects it from erosion and runoff. For these reasons, keeping a healthy, well-watered lawn can improve your local environment, your health, and more.
Properly-watered lawns are, perhaps obviously, aesthetically pleasing and have much more curb appeal than a neglected lawn does. They look healthy, green, and welcoming. This helps to not only make you feel better about the state of your property but also increases the overall property's value.
Features to consider before you buy a lawn sprinkler
When looking for your new lawn sprinkler, there are several features that you should consider before making a commitment. When we selected the GreenGlow Garden Weighted Rotating Sprinkler as our Editor's Choice selection and the best lawn sprinkler available, we considered the same following factors. These are the type of sprinkler, the coverage area, spray distance, materials, and warranties.
Type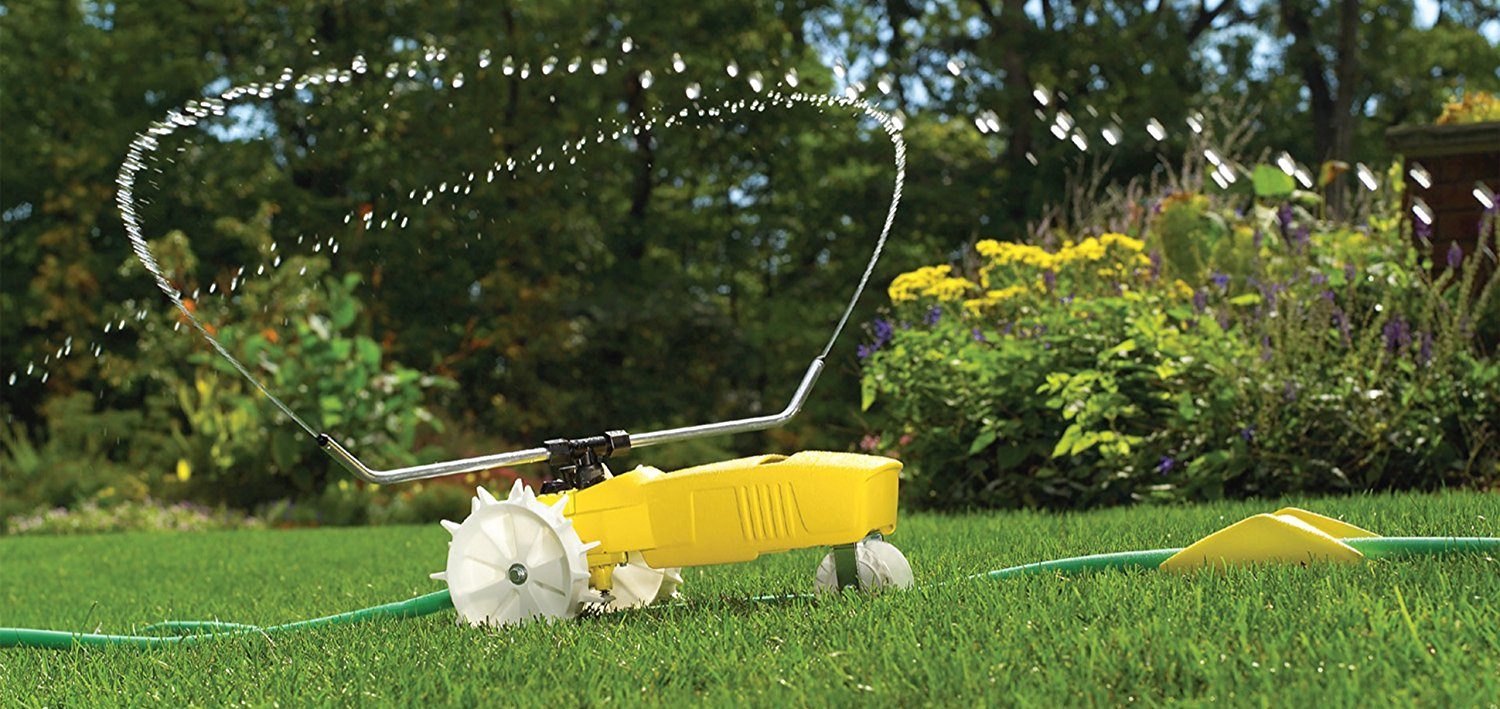 Four types of sprinklers are the most popular for residential and business use. They are oscillating, stationary, pulsating, and traveling sprinklers.
Oscillating sprinklers, such as the Rocky Mountain Goods Metal Oscillating Lawn Sprinkler, offer even coverage for your lawn and plant life across your yard. It's efficient at any water pressure levels, including low, medium, and high. It provides gentle watering that will keep your plants, flowers, and grass looking healthy and vibrant throughout the year. They allow for an adjustable water path and operate in either square or rectangular watering patterns. The downsides are that they tend to break more easily and are difficult to set level on some lawns.
Stationary sprinklers are designed with small spaces or small sections of the lawn in mind. Usually, they also have the simplest designs. They're also fairly inexpensive, with no moving parts to break. They work great, especially with low water pressure, and they offer faster watering. They do, however, only water in one pattern, and they're not ideal for large areas or larger sections of your lawn or yard, so keep that in mind. The best stationary lawn sprinkler is the GreenGlow Garden Weighted Rotating Sprinkler.
Pulsating sprinklers, like the M PLUS Water Sprinkler, are fantastic for round or irregularly-shaped areas or for lawns and yards that are particularly large. They stick into the ground with a spike and have a pulsating head at the top where the water releases from. With its design and a great amount of water pressure, it can cover up to 10,000 square feet alone. It offers slow and gentle watering for your lawn and yard, but there are some downsides. For example, they tend to be the noisiest sprinkler option. Additionally, they don't work well with lower levels of water pressure.
These are a unique type of sprinkler that water space by traveling along with a hose. Some even have gear-driven wheels, which means that they are powered by the water pressure in the line. Such sprinklers are best for large areas, and if set up properly, you'll never have to worry about keeping an eye on watering needs afterward. They work great on oddly-shaped yards as well as hilly, uneven spaces and terrain, so long as the ground itself is hard enough. It provides deep, even watering over large areas with a quiet overall operation. There are multiple spray patterns available with these models. However, keep in mind that they're not ideal for newly-seeded lawns or spaces and that they tend to be expensive. If you think a traveling sprinkler is best for your needs, try the Nelson Traveling Sprinkler.
Coverage area
The coverage area of the sprinkler you choose is highly important since you likely won't want a sprinkler system that you have to move multiple times to cover an area fully. You also don't want a sprinkler that will overspray an area.
If it sprays further than your intended area, lawn, garden, or yard, you may make a mess of your deck, patio, or other areas.
Traveling and pulsating sprinklers may not be for you if you have a small lawn or yard. The oscillating and stationary models, such as the
Melnor Turbo Oscillating Sprinkler
, would be a better fit in that situation.
Spray distance
The spray distance is similar to the coverage area, depending on the model of sprinkler that you're using. But it also depends on the amount of water pressure you have available.
The lower your water pressure, the more likely you are to need a stationary sprinkler or something that still has a decent output at lower available pressures.
Some sprinklers can spray for a distance of up to 10,000 square feet, while others will spray much smaller distances. Sprinkler distances vary with the different system types and designs, so it's important to know the standard distances that are reachable as well as knowing what kind of reach you'll need.
Measure the space that you want to be watered and look for a sprinkler or system of sprinklers that will optimally meet your needs without overreaching or not meeting the minimum required distance. If you're unsure, contact a professional to measure your yard out and make suggestions on design and placement. For most residential applications, something in a range similar to the Madeking Garden Sprinkler will work just fine.
Material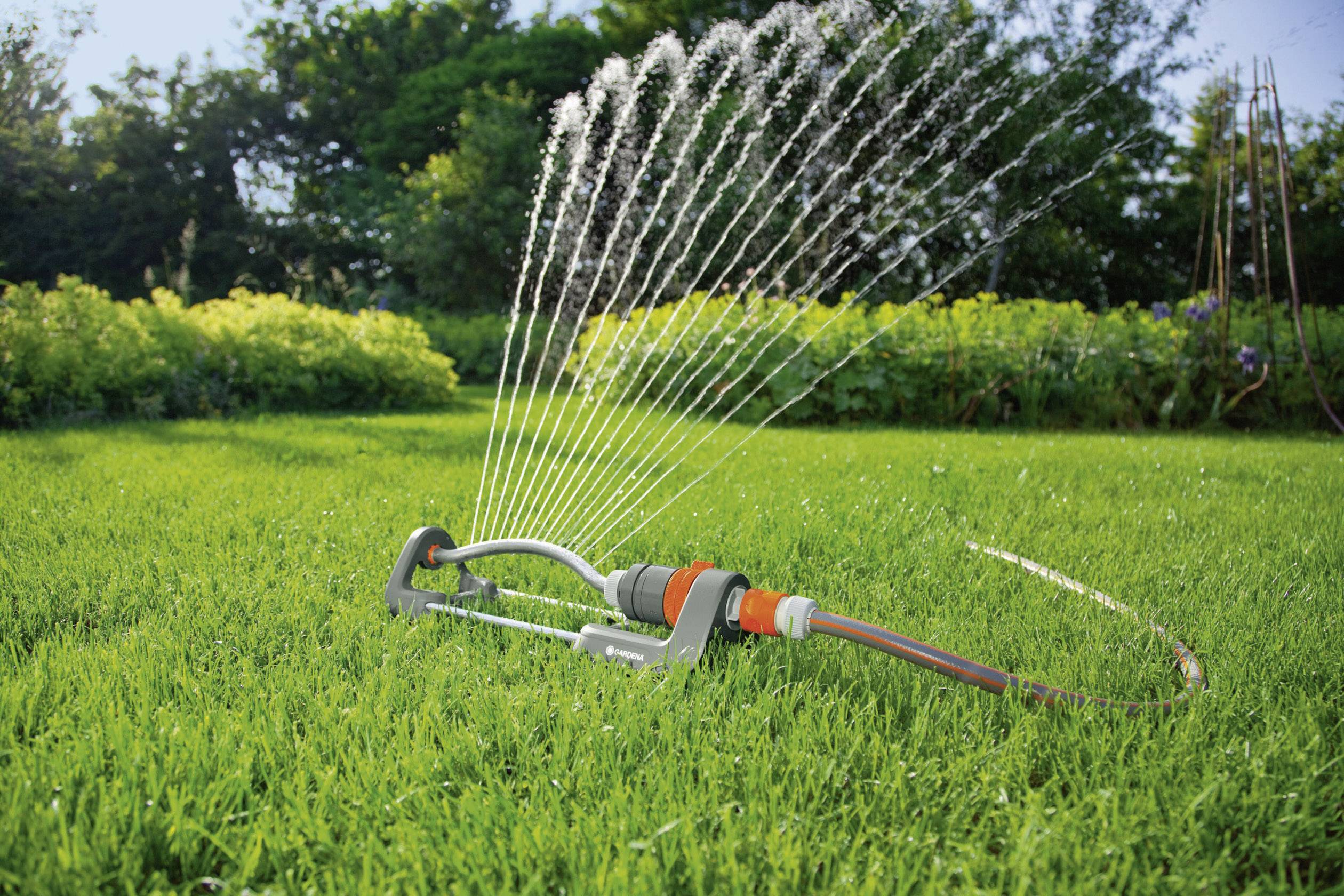 Most sprinklers are made of a combination of metals and plastics. One of the most common metals used is aluminum, which is often used for the arms of the sprinkler. Metal is also used in the washers, and typically steel is used. Some sprinklers are made entirely, or mostly, of metal components, while others are predominantly rubber or plastic that has been treated to withstand the elements better. Usually, the bases of these sprinklers will be injection-molded plastic and weighed down with some kind of metal or heavy rubber. Additionally, the O-rings and similar components in sprinklers are made with rubber.
Warranty
As with any major purchase for your home, family, or recreational use, you want to be sure that what you're buying is a high-quality product worth your money and support.
When looking for sprinklers for your home, make sure to keep an eye out for warranties and satisfaction guarantees.
The existence of either of these things solidifies that the manufacturing company stands behind its sprinkler system wholly.
FAQ
Is it difficult to set up a lawn sprinkler?
Sprinkler systems are not difficult to install on your own, but they can be incredibly time-consuming, so you should plan to be working for a few hours at least, depending on the size of the job. The most difficult part of installing the new lawn sprinkler system will be burying the underground piping. You can rent equipment for trenching that will make this portion of installation easier and faster, or you can do it all manually. In either case, you'll also need to use a design service or create a sprinkler path across your property or space, or you can hire a contractor to create a design that segments your yard into appropriate zones. Additionally, you can use above-ground sprinkler models for a variety of uses.
Which lawn sprinkler is the best one for a smaller area?
Stationary lawn sprinklers are the best for small areas. They offer a consistent, constant stream of water over any singular area, such as a garden or flower patch. They don't rotate, but they do offer various circular patterns. This makes them great for small areas that are otherwise difficult to reach, though they're not ideal for slopes or areas with a lot of square footage.
What type of sprinkler is better for a large garden?
For large gardens, oscillating sprinklers tend to work the best. They're the best lawn sprinklers for large lawns and gardens for several reasons. For starters, the fact that they offer even coverage and water dispersion at any pressure level means that, no matter what, the chosen area will be hydrated appropriately. They also allow for adjustable water paths, so you can set them to cover your garden and essentially forget about them once they're properly adjusted. They can be difficult to set level on some lawns and spaces, particularly in uneven or patchy grass or on sloped areas, so just be prepared to make some adjustments if needed.
Our verdict
As you can see from our reviews and guide, we've taken all the guesswork out of choosing the best lawn sprinklers for your yard or garden. While they vary in type, spray distance, coverage area, and more, these sprinklers are guaranteed to appropriately hydrate your lawn and plants for a healthy, green appearance. With our choices, the Melnor 9538 Deluxe Pulsating Sprinkler, the Nelson Traveling Sprinkler, and the Madeking Garden Sprinkler Lawn Irrigation System, in particular, you can be sure that you're getting the best irrigation system lawn sprinklers around. These are all made of high-quality materials with excellent warranties, impressive coverage, and unique features and benefits that make them the best lawn sprinklers available.